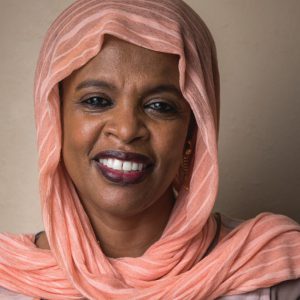 Mazahir Salih came to the United States 20 years ago with a degree in civil engineering from her native Sudan. She first settled in Virginia, where as an immigrant woman she found she had to start over with her career and education. While in Virginia she became a citizen, married her husband, and started a family. She moved to Iowa City in 2011 to pursue a degree in electroencephalographic, a program she finished about two years ago at the top of her class.
Mazahir Salih is a long-time community organizer and family advocate in Iowa City.
With extensive experience in community planning and development, Salih testified in front of the US Senate Judiciary Committee in Washington, DC on immigration reform in 2013, and has organized and led numerous workshops, forums and training sessions for local and national organizations on community development, workplace and immigration issues. As the General Secretary of the Sudanese American Women and Children Organization in Iowa City, Salih has played a key role in bringing together the Sudanese-American community with the Iowa City Community, as well as city, county and state agencies, as well as nonprofit and interfaith organizations, to consider employment, housing, school, transportation, and social service needs in Iowa City.
She also became very involved as a community activist, Co-founder of the Center for Worker Justice where she is currently The Executive Director. Working at CWJ to defend the rights of workers, Salih was able to work on behalf of labor and social justice issues.
Salih serves the community in many other ways, she serves on several civic boards and nonprofit service organizations in Iowa City including the Police Citizens Review Board, Iowa Valley Global Food Project, Black Voice Project- Iowa City, Council for international Visitors to Iowa City CIVIC, University of Iowa human rights, City Manager's Round Table, and the Sudanese-American Women and Children's group. Salih was also formal board member of the IC Downtown District Association, she served as the Vice President of the Head Start Policy Council in Alexandria City, Virginia, where she oversaw policy, spoke at national conferences, and coordinated programs with Head Start directors, school district leaders and city officials.
On November 2017, Mazahir Salih has been elected to Iowa City, City Council to become the 1st Muslim to be elected to Iowa City council and the 1st Sudanese American ever to be elected to an office in the US. In January 2020, she became the Mayor Pro Tem of The City of Iowa City.
Executive Director
(571) 282-5188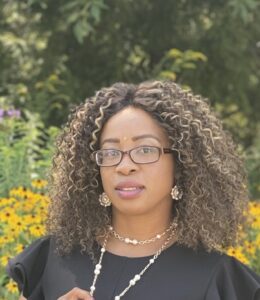 Bijou Maliabo has been an outspoken community activist for more than 7 years now. She is well known as an advocate for immigrants and refugees across Iowa and has spent most of her waking hours serving the communities of Eastern Iowa in any way possible. Her passion for serving others has ushered her into leadership for several non-profit and social justice groups including The Human Right Commission, The Congolese Health Partnership (CHP), Program Management Plus with the University of Iowa for Refugees, The Center for Worker Justice (CWJ), & The UNA-Johnson County chapter. She has also lent her professional ability to speak 5 languages to the school district, Iowa Human Services, the Johnson County court system, and multiple police precincts in the area. She is a deeply passionate about helping others and serves as a mentor for multiple youth across the nation and abroad. She is eager to use her voice and employ her experience to empower others and inspire change by supporting others and giving back to the community.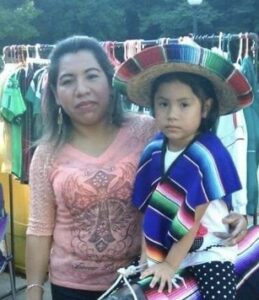 Margarita Baltazar joined the CWJ board in 2017 after being active for several years in CWJ's minimum wage and affordable housing campaigns. She is currently president of the Forest View Tenants' Associate and has been instrumental in organizing mobile home park residents to negotiate favorable new housing as part of a major redevelopment of the neighborhood. She is originally from Mexico and currently works in the fast food industry to support her daughter.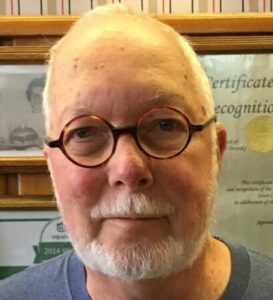 Charlie is currently serving as the Treasurer of the Center for Worker Justice and is an active supporter of the Forest View Tenants Association. He serves on the Iowa City Community School District school board and is a member of The Black Voices Project, the Johnson County Interfaith Coalition and has previously served on the Iowa City Housing and Community Development and Planning and Zoning Commissions.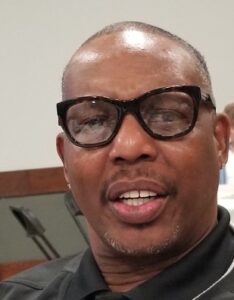 Gregory Hearns is the President of the Iowa City Federation of Labor. He rose through the ranks as a rank-and-file member of the Teamsters Union and served as a Business Agent of Teamsters Local 238 for years before recently retiring from that position. He is a longtime volunteer member of the CWJ finance committee.
Royce Peterson is married with two adult Sons. Royce is a proud member of Carpenters Union Local 1260 in Iowa City where he has served on the Executive Board and as a Business Representative for several years. Royce is a labor advocate in the Local Community and love learning other cultures and Heritage.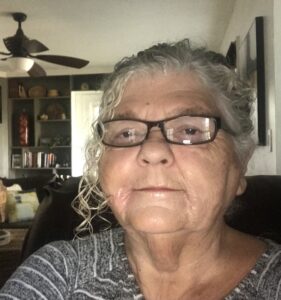 Loxi Hopkins has been a full time volunteer in the Social Action Department of the Catholic Diocese of Davenport for the past 18 years. She is a board member of TeamCan, The Lincoln Center, Progressive Action for the Common Good, Iowans for Immigrant Freedom, and active member of One Human Family and Juvenile Justice coalition. Loxi was part of the advisory committee for the formation of Center for Worker Justice of Eastern Iowa and is happy to have been chosen for the Board.